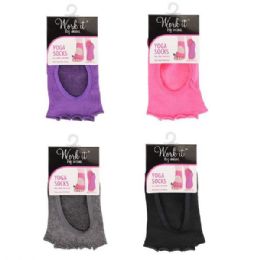 Wholesale Womens Work It Yoga Gripper Socks
GRIP GLOVES: Non slip rubber dot design on Black, Grey, Pink and Blue colors. These yoga grip gloves are ideal for men and women!
These anti slip yoga socks provide freedom and breathability to your hands. This set includes a Yoga Strap with stainless steel clip for easy handling.

Improve your flexibility with the Yoga Stretching Strap suitable for all your routines. It's the perfect companion accessory to add in your yoga wear.

These training socks prevent you from slipping around on your mat and enhance your balance while protecting your feet from dust and grime.
Secure Online Shopping

Best Wholesale Prices

Professional and Friendly Staff

12+ Years in Business