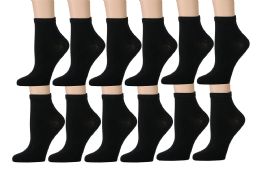 Wholesale Women's Ankle Socks, Athletic Sports Running Socks (12 Pairs - Many Styles) Quarter Length (Black)
If you're looking for sporty and fashionable ankle socks, look no further. This deal includes 12 pairs of womens cotton ankle socks. These socks are for multi-purpose use or for wearing casually. Whether you're going to work, school, exercising, or jogging, these socks are the perfect pairs for everyday wear. Featuring a comfort top and made with high quality cotton, your feet will get the comfort it deserves to do the things that they do. Made with 80% cotton, 15% polyester, and 5% spandex. These socks will fit womens shoe sizes 5-10.
80% Cotton, 15% Polyester, 5% Spandex
QUARTER ANKLE SOCKS: Available in an assortment of colors and color combination, each pack comes with 12 pairs of awesome cotton ankle socks for women. These women no show socks are great for various activities including running, jogging, biking, exercising, or working out.
LADIES ANKLE SOCKS: These athletic socks look stylish with sneakers and are very comfortable for daily wear. A 12 pack at such a cheap price would mean that you would never run out of ankle socks. Choose from solid colors or colored heel and toes.
ANKLE SOCKS WOMEN: Great for all seasons, whether youG re jogging in the fall, walking in the spring, going to the mall in the summer, or doing at the working out in the winter, this bulk pack of socks are for multipurpose and multi-season use.
WOMENS ATHLETIC SOCKS: Cushioned and moisture wicking, these socks allow your feet to breathe and stay cool. Cushioned for durability and added comfort.
Made with 80% cotton, 15% polyester, and 5% spandex. Size 9-11 is a womenG s free size and will fit womens shoe sizes 5-10 (US). Get in fashion with these athletic socks for one low price.
Case (12 pairs):

$16.32

Unit Price:

$1.36
Secure Online Shopping

Best Wholesale Prices

Professional and Friendly Staff

12+ Years in Business