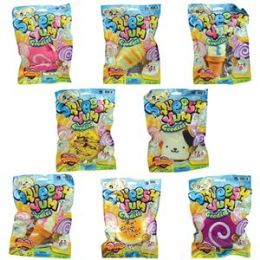 Wholesale Squeesh Yum Large Treats
No matter which Squeesh Yum you receive, it's gonna look delish and be fun to squish! When you order, you'll receieve a random assortment of Squeesh Yums from the Goodies collection. It's the best kind of mystery! The Squeesh Yum Large Slow Rise Foam Treat is everything you want in a food squishy.
Assortment includes Donut Fluffs, Creamy Cones, Sweet Swirls, Sugar Loafs, Choco Dipper, and Stuffed Samich
Sizes vary from 3.5" to 7"
Quantity: 12 per display
UPC: 603250709343
Display Size: 11.37" L x 7.75" W x 4.12" H
Weight: 1.58 lbs
Case (12 pieces):

$106.68

Unit Price:

$8.89
Secure Online Shopping

Best Wholesale Prices

Professional and Friendly Staff

12+ Years in Business