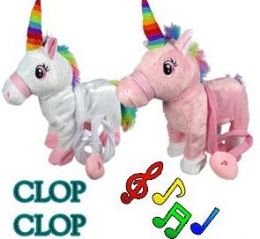 Wholesale Jumbo Walking Rainbow Unicorns With Leash Lights And Sound
JUMBO WALKING RAINBOW UNICORN W/ R/C LEASHLIGHTS & SOUND. These adorable interactive unicorns have embroidered eyes and super-soft velvet bodies. Just slide the button on the battery box inside the zipper compartment and press the button on the remote control leash to hear the clop-clop of the unicorn's hooves and see the unicorn walk and shimmy to the music.
3 "AA" batteries required - not included. Assorted colors. Sorry, no color choice available. Each cello bagged.
Size 13 inches, leash 35 inches
Case (10 pieces):

$247.90

Unit Price:

$24.79
Secure Online Shopping

Best Wholesale Prices

Professional and Friendly Staff

12+ Years in Business