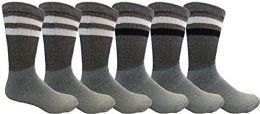 Wholesale 6 Pairs of Mens Tube Socks, Old School, Sports Casual, Comfortable Cotton Blend by WSD
Introducing an old school styled tube sock for men. Made with a high quality cotton blend, experience a much premium softness and unmatched comfort. These old school style socks are ideal for a wide range of activities including sports and casual daily wear.
Made with fine fibers, these tube socks offer a lot more than your typical pair of socks do. The cushioned sole absorbs impact making these ideal for running, basketball, tennis, soccer, football, and more. The additional impact absorption reduces fatigue and makes walking or standing a lot more comfortable.
Also features a non-binding top so that your legs do not feel constricted. Also allows your feet and legs to breathe and stay cool when in action.The stay up top ensures that your sock does not slide or slip off even when in constant motion.
Ideal for all season wear especially in the winter time. These thicker socks offer an additional layer of warmth and is longer for additional protection against the cold. Looks great when worn with sneakers, shoes, or boots.
Designed with your comfort in mind, a softer overall sock with a padded sole will easily become your go to socks. A relaxed fit, these mens size socks are size 10-13 and will fit men shoe sizes 8-12 (US).
Looking for retro style tube socks? Look no further as these are not just your typical tube socks. They were designed for athletes, people who enjoy comfort at their feet, and as a premium daily sock.
These socks are made with high quality fibers included in a fine cotton blend for an optimal fitment. The cushioned soles protect your feet from landing impact. These socks are ideal for basketball, tennis, soccer, football, running, and more. It can also be worn as a daily sock and will always remain in style. A non-binding top means no more marks on your legs from socks that are too tight, meaning more comfort for a longer time.
A relaxed fit, these mens size socks are size 10-13 and will fit men shoe sizes 8-12 (US).

Case (6 pairs):

$15.06

Unit Price:

$2.51
Secure Online Shopping

Best Wholesale Prices

Professional and Friendly Staff

12+ Years in Business