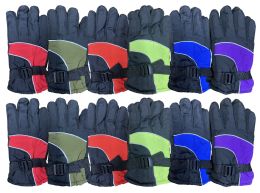 Wholesale 6 Pairs Of Kids excell Thermal Sport Winter Warm Ski Gloves
Kids Ski Gloves for Boys and Girls These children's gloves are the perfect accessory for the colder months for children! Warm Fleece Lining! With Velcro Strap Features a stretch cuff Packed in Assorted Colors As Shown Buy Children's ski gloves in bulk and save today!


Get a pack of warm winter gloves for the kids. Features assorted neon colors including red, purple, blue, green, purple, and orange for a cute look. Designed for boys and girls for a sporty and youthful look.
These thermal sport gloves can be worn for the commute to school, playing outside, building a snowman, throwing snowballs and more. Perfect for children who enjoy being outdoors despite the temperature. Keeps the hands and fingers nice and toasty for long periods of time.
Features a velcro strap that helps to keep the glove secured on the hands especially when playing. Also features a stretch cuff. They also prevent cold air from getting inside the glove and leading to cold hands.
Interior is lined with fleece for a comfortable and cozy feel. Your children or grandchildren will love these gloves for the warmth and the interior fleece lining. These children's gloves can be used for skiing and other kids' winter sports.
Each pack includes assorted colored gloves for children. Makes a perfect gift to a loved one, friend, grandchildren, children, family members, and more. Great for the holidays and throughout the winter.
Secure Online Shopping

Best Wholesale Prices

Professional and Friendly Staff

12+ Years in Business