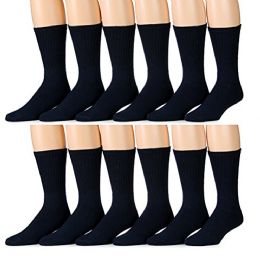 Wholesale 6 Pair Of SOCKSNBULK Mens White Diabetic Neuropathy Socks, Edema, Loose Fitting (Navy)
Our diabetic socks are comfortable and made with cotton (80%) and polyester (20%). These diabetic athletic socks will slip right over the ankles and are non-binding so that you will not get marks on your legs from wearing socks that are too tight. These socks are also great for blood circulation and edema. These neuropathy socks are available for men, size 10-13 fits men shoe sizes 8-13. Choose from a variety of colored diabetic socks including black, white, blue, gray, navy, tan, and pink. Buy these cotton diabetic socks and save!

DIABETIC SOCKS: Comfortable cotton diabetic socks that slip easily over the ankles. Great for lounging around the house, or in your favorite shoes.
DIABETIC ATHLETIC SOCKS: Non-constricting. Long-lasting comfort around the ankles and calves.
UNISEX SIZING NEUROPATHY SOCKS: Size 10-13 will fit men's shoe sizes 8-12 for a comfortable fit.
ASSORTED COLORS: Choose from a variety of colors that are easy to match. Socks are made with 80% cotton and 20% polyester.
COTTON DIABETIC SOCKS: Diabetic socks that are great for athletes. Excellent for blood circulation and edema.
Secure Online Shopping

Best Wholesale Prices

Professional and Friendly Staff

12+ Years in Business