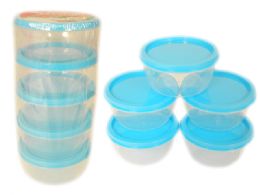 Wholesale 5pc Round Multipurpose Containers
hey can be used for mixing or sampling cosmetics such as makeup, eye shadows, lotions, lip balms, toners, creams, ointments, and acrylic powder. They can also be used in the world of food and beverage by holding loose leaf teas, coffee, herbs, spices, jams, honey, and cooking oils. Other uses include: medication, lab and field research samples, earrings and other small jewelry, paints, glitters, and other art supplies

High Quality --Made of high-grade acrylic that is resistant to breaking and warping from heat. Each container has a round lid and inner liners to create a tight seal that will not leak.
Size: 3.6" Dia X 1.5" H
Case (48 pieces):

$92.64

Unit Price:

$1.93
Secure Online Shopping

Best Wholesale Prices

Professional and Friendly Staff

12+ Years in Business