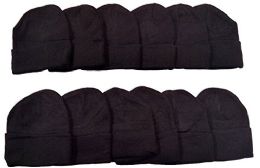 Wholesale 12 Winter Toboggan Beanie Hats by SOCKSNBULK Thermal Sport Mens Womens, Black
Buy black beanie hats in bulk will fit men, women, and teenagers. It is one size fits all and is stretchy!

BULK PACK WINTER BLACK HATS: Are you tired of feeling frozen in winter? We realise how important to keep head warm during cold months and these 12 beanies will help to cope with harsh weather conditions. Traditional Black beanie will fit every style you choose.
UNISEX BEANIES FOR COLD WEATHER: These winter hats fit both men and women. A comfortable and thick beanie help you to block out the wind and reduce the chance of catching a cold.
CUFFED SKULL CAP: Cuffed skull cap is designed the way that you can extend it lower to cover your ears for additional warmth.
BEANIES FOR COLD WEATHER: Comfort stretch beanie will provide added warmth by trapping heat underneath while preventing the wintry air from entering. The thicker beanies helps to insulate and keep the head warmer for longer.
COMFORT & STYLE & DURABILITY: Soft and warm 100 % acrylic can protect you from freezing while beanie's design allows to look nice and stylish. Due to stretchy features of unisex beanies your head feel comfortable, not too tight or too loose. Also one size fits all.
Secure Online Shopping

Best Wholesale Prices

Professional and Friendly Staff

12+ Years in Business