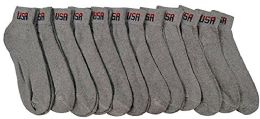 Wholesale 12 Pairs of Men Socks Ankle, Sport Athletic Low Cut Quarter Length Socks (Gray W/ Usa Logo)
Our low cut socks are quarter length. These sport socks end above the ankle for the sporty quarter length look. Buy men?s ankle socks in bulk to save! These athletic socks are size 10-13 and will fit men's shoe sizes 8-12.

MENS ANKLE SOCKS: Get 12 pairs of comfortable and high quality dress socks for men. Choose from various colors.
SPORTS SOCKS: Great for daily wear over a wide range of activities. Wear it for running, jogging, playing sports and more! Looks great when worn with sneakers or shoes.
QUARTER LENGTH ANKLE SOCKS: These ankle socks are quarter length and ensures that your socks stays up when worn while giving you the mobility to move around.
ATHLETIC SOCKS: Made with 80% cotton and 20% polyester for a more comfortable feel and fit. Ideal for athletes.
ANKLE SOCKS: Size 10-13 will fit men's shoe sizes 8-12. Each pack includes 12 pairs.
Secure Online Shopping

Best Wholesale Prices

Professional and Friendly Staff

12+ Years in Business