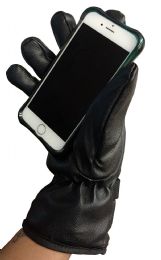 Wholesale 1 Pair of Winter Texting Gloves Gloves Mens Womens Faux Leather (Womens (M/L))
Awesome texting gloves that respond to touch screen mobile devices. You may continue to use your phone and send text messages using these stylish and warm winter gloves. These texting winter gloves feature double fleece lining insides and faux leather outside. Get the warmest winter gloves at a discount!

TEXTING GLOVES: Texting made easy in the cold. Crafted with special fabric that responds to touch screen surfaces. Continue to use your phone while keeping your hands warm in the winter time.
WARMEST WINTER GLOVES: These winter gloves feature double fleece lining insides to keep your hands feeling warm and cozy during cold winter months. Great for those who travel often and have long commutes. No more taking off your gloves to text.
FAUX LEATHER: These durable gloves are made with faux leather that are soft in the inside and keep your hands looking and feeling great and stylish all at an affordable price.
TEXTING WINTER GLOVES: Most accurate when used with index finger to text. Gloves are made for winter time texting. Solid black color is great in the winter time and is perfect with any outfit.
AMAZING FIT: Not too tight, not too lose. Perfect fit that traps heat, so cold air doesn't creep in. Men's L/XL and Women's M/L fits most.
Secure Online Shopping

Best Wholesale Prices

Professional and Friendly Staff

12+ Years in Business