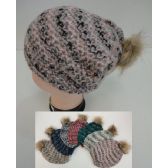 The cold fall and winter season will be approaching soon. The accessories and fashion clothing you are wearing now will not be sufficient. You will have to purchase the right apparels to survive in the cold season. Winter hats are one of the popularly bought accessories. There are so many winter hats supplier in the market who offers such kind of accessories to protect your head from the freezing cold. If you have children, odds are that you already have knowledge of many good companies.
To make your children satisfied with their winter hats, involving them in buying is an excellent idea. Adults tend to be more cautious while choosing their hats. First of all, they make sure that the trendy hats complement the apparels they have already. Winter fleece hats come in different designs, sizes, colors, and embellishments. Designers have elegant fleece hats for both kids and adults. If you want solid color hats, there are countless options.
Some hats have beautiful patterns and prints while others have a simple image or a cute brand logo. Start planning your winter hats shopping early as once the cold season begins, the hat prices might be steeper than they are now.