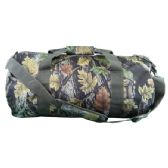 Finding the right duffle bag is not an easy task. Duffle bag is also nicknamed as a gym bag, kit bag, ditty bag or sea bag. It refers to a particular style of bag that is mostly big and cylindrical. Most of women just look for it to accessorize with a particular outfit and select the one that catches their eye. Personalized bag makes it easier for you to identify your one when kept with others.
As well, it looks ten times cuter than having one that's not. You can personalize it with printing or embroidering your name on a solid color. A range of materials are used to manufacture purses and wholesale duffle bags. Leather, denim, silk and canvas are some of the common materials used for that purpose. The price of duffel bags influenced greatly on the basis of the kind of material used to make it. Leather bags are the most expensive than other ones. Other factor that affects the price of such bags is the brand name on it.
You can find it on outlet stores at very low price. Some of the higher priced brand name bags can cost hundreds or even thousands of dollars.