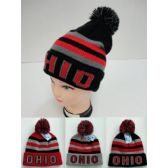 Winter is not the end of your family outdoor play opportunities. It comes with its own fun in the form of sledges. Of course, it requires the snow. All the more reason is to be ready when it arrives.
Get your sledge - Buy a sledge and get it ready in plenty of time. If you are making it own, ensure you follow some plans, and has the centre of gravity right. If the weight is more, you will get yourself off the sledge every time. Shop purchased sledges will always be well balanced. If sledge has metal runners, ensure that they are not rusty. The rust will hinder the smooth running of the sledge.
Choose a place where the slope matches your skill. Without the snow, you cannot assume how fast it will run. However, you can ask around to people to find the best sledge hills in that area. Areas with several slopes are the best ones. Ensure the slopes are free from obstacles. Proper dressing is also essential. Ensure to keep warm gloves, wholesale toboggan hats, scarfs and warm jackets to avoid frostbite. Winter boots are also essential to keep feet dry.