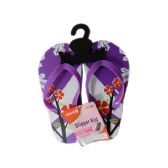 Whether you are searching for fun shoes or are going for a warm vacation and need apparel for your feet, flip flops are the perfect traveling shoe. With the comfort it provides, they are cool and versatile as you can wear them with shorts, capris, or jeans depending on their color or embellishments. It doesn't matter what your outfit, hobby or interests, there is a flip flop wholesale out there waiting for you.
You can also found themed flip flops with themes like musical, nautical, whimsical or floral. You can find it for your college sports teams or for favorite professional. Flip flops are lightweight and don't require a lot of space, so you can buy two or three pairs. These do not take up any more room than one pair of shoes. If you have accessed the internet, but still haven't found the flip flops of your kind, you can purchase embellishments to create your own decorated flip flops.
You can buy jewels, buttons, ribbon, feathers, seashells and more to decorate your flip flops. Flip clips are also available now that you can use when you want or remove it as you change shoes.